It is guest post Friday! Each Friday we encourage you to submit a post for the ryaneller.com blog. This week's post comes from my good friend Stephanie Bolen. She is an awesome bucket lister who is striving to live a life of intention. You can follow her blog here and on Twitter @stephB_4themoon. If you would like to submit a guest post, click here. 
I hope those of you with summer bucket lists got to complete them before vacation time ended and the new school year began. However, a new season is now starting! The season of Autumn (or Fall). A time of scarves, piles of leaves, and pumpkin flavored everything. A time for Halloween, fall breaks, and Thanksgiving. A time for a whole new bucket list!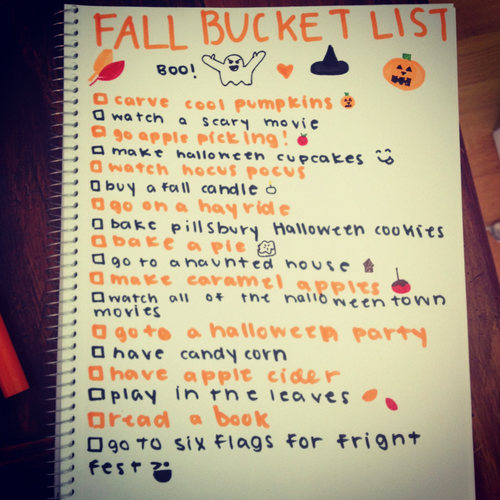 Have you created your autumn bucket list yet? Well, I've decided to help you get started. 🙂 I've been searching and gathering all the autumn bucket list items on the internet. Here are a few that I've gathered:
Fall photo shoot
Pick apples at an orchard
Go on a hayride
Bonfire and s'mores
Make a homemade apple pie
Go to a pumpkin patch
Carve a pumpkin
Go to an actual haunted house (spend the night if you're up for it)
Go to a fun haunted house
Throw a Halloween party
Scary movie marathon
Make/eat caramel apples
Go to a football game
Drink apple cider/fancy coffee drink (probably pumpkin flavored)
Jump in a leaf pile
Collect as many different types leaves as you can find
Tail gate before a football game
Bob for apples
Make a Halloween costume
Find your way through a corn maze
Camp in the backyard
Go trick or treating
Learn to knit and knit a scarf
Tell scary stories around a campfire
Donate food to a food bank
After making this bucket list, I realized that the most important food or drink for the fall season is anything involving pumpkins or apples. lol
I hope this helps you create your own autumn bucket list. Make sure you don't just create one though; you also need to live it. Live it and enjoy this wonderful season!
What items will you add to your autumn bucket list? Are there more fall bucket list items you can think of? What are they?
-Steph
How to Set Up Your Own Bucket List
Set up a Bucket List in 10 minutes or less by reading my step-by-step post. Also, check out 281 Awesome Bucket List Items You Should Add to Your List. We are always challenging people to Live Your List. Learn more….
Subscribe by clicking here.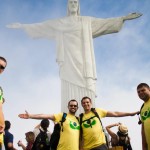 Ryan Eller is a dreamer, adventurer, and avid Bucket Lister. He once hosted a leadership conference underneath mango trees in Cuba. He led team-building activities at the Christ The Redeemer Statue in Rio. He even slid down portions of the Great Wall in China.His goal is to help others learn how to live intentionally by learning how to Live Your List.