If you Live Your List you are being intentional about the books you read. In this episode of The Live Your List Show your hosts Jerrod and Ryan share some of their favorite books, why leaders should be readers, and talk about the 11 greatest books of all time.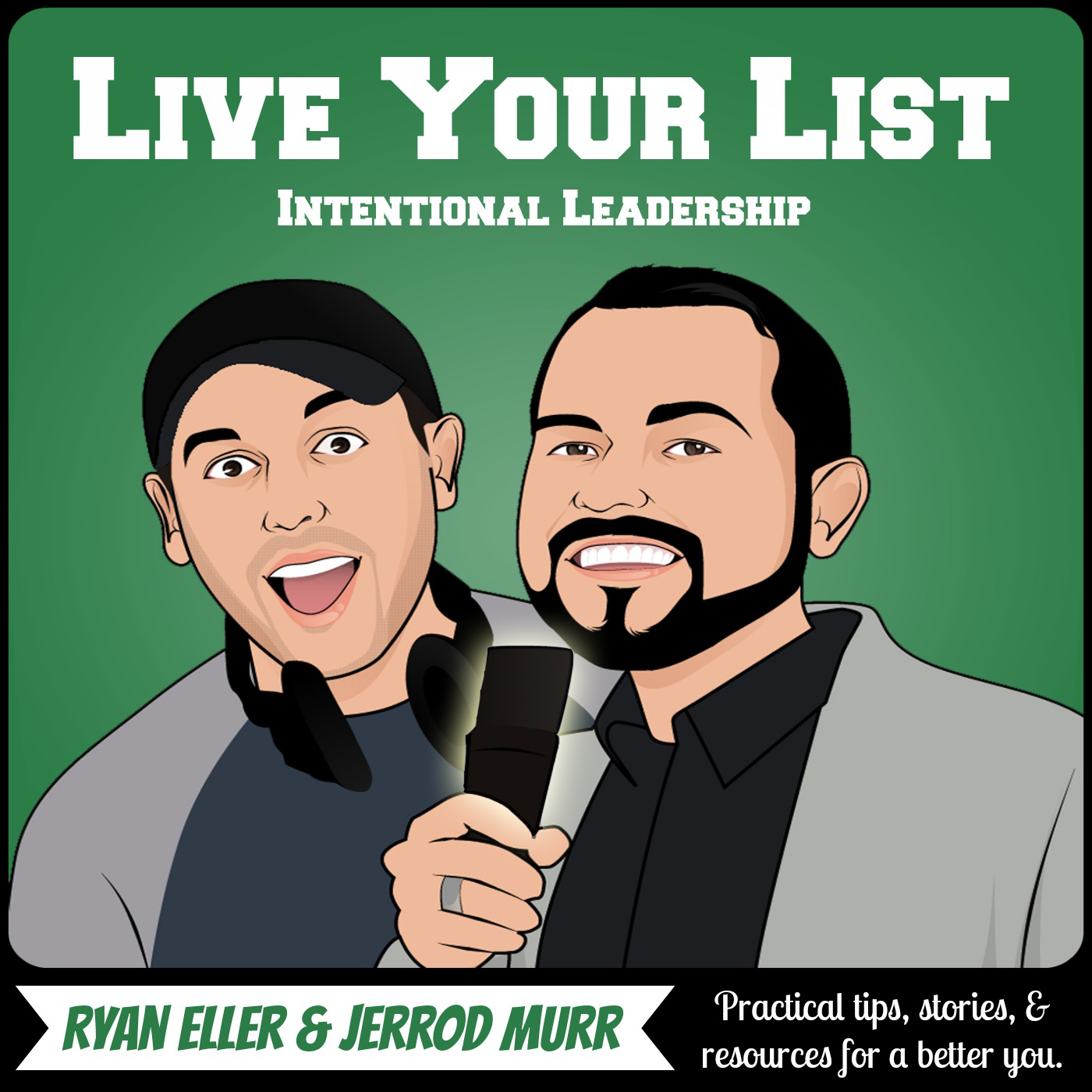 Click to Listen
Podcast: Play in new window | Download
If you are unable to listen to the episode, click here. 
Why Leaders Must Be Readers
This article comes from Forbes.com by Kelsey Meyer.
1. Reading Reminds You. Re-reading books reminds you of important lessons you should be following on your journey to #LiveYourList.
2. Reading Challenges You. Reading books outside of your comfort zone help you grow as a leader and challenge you to adjust your status quo.
3. Reading Gives You Opportunities to Interact with Others. Regardless of profession or team, any leader can find ways to connect with others by reading together. 
11:11 Make a List – Top 11 Books of All Time
This list is complied by thegreatestbooks.org. 
1. Don Quixote by Miguel de Cervantes
2. Ulysess by James Joyce
3. Lolita by Vladimir Nabokov
4. The Adventures of Huckleberry Finn by Mark Twain
5. The Great Gatsby by F. Scott Fitzgerald
6. 1984 by George Orwell
7. War and Peace by Leo Tolstoy
8. In Search of Lost Time by Marcel Proust
9. Anna Karenina by Leo Tolstoy
10. Madame Bovary by Gustave Flaubert
11. The Brothers Karamazov by Fyodor Dostoyevsky 
Five Incredible Pointers on Becoming a Better Reader
1. Find the right place to read. Find the spot for you that has the right lighting and environment that fits your learning style is conducive to learning. 
2. Choose the right time. Try different times of the day to read until you find what time you are the most disciplined to consistently read. 
3. It is OK to read easy books. Find books you enjoy reading to get you into the habit of reading so long-term you can read more challenging books. 
4. Read a variety of genres. Read things that challenge you. Read things that you enjoy. Read things about topics you enjoy. 
5. Read covers for fun. Check out new books often to see if there are things out there that you enjoy. This will help you find books you would enjoy. 
This Episode's Nick Collison Picks of the Day
1. The Success Principles by Jack Canfield – The Success Principles™ will teach you how to increase your confidence, tackle daily challenges, live with passion and purpose, and realize all your ambitions. Not merely a collection of good ideas, this book spells out the 64 timeless principles used by successful men and women throughout history. Taken together and practiced every day, these principles will transform your life beyond your wildest dreams!
2. 21 Irrefutable Laws of Leadership by John C Maxwell – What would happen if a top expert with more than forty years of leadership experience was willing to distill everything he had learned about leadership into a handful of life-changing principles just for you? It could change your life. John C. Maxwell has done exactly that in the new 10th Anniversary Edition of The 21 Irrefutable Laws of Leadership.
3. Start by Jon Acuff – There are only two paths in life: average and awesome. The average path is easy because all you have to do is nothing. The awesome path is more challenging, because things like fear only bother you when you do work that matters. The good news is Start gives readers practical, actionable insights to be more awesome, more often.
4. Quitter by Jon Acuff – What if you could blow up your dream without blowing up your life? What if you could go for broke without going broke? What if you could start today? What if you already have everything you need to begin? From figuring out what your dream is to quitting in a way that exponentially increases your chance of success, Quitter is full of inspiring stories and actionable advice.
5. Oh! The Places You'll Go by Dr. Seuss – A perennial favorite, Dr. Seuss's wonderfully wise graduation speech is the perfect send-off for children starting out in the world, be they nursery school, high school, or college grads! From soaring to high heights and seeing great sights to being left in a Lurch on a prickle-ly perch, Dr. Seuss addresses life's ups and downs with his trademark humorous verse and illustrations, while encouraging readers to find the success that lies within. 
6. The Giving Tree by Shel Silverstein – This is a tender story, touched with sadness, aglow with consolation. Shel Silverstein has created a moving parable for readers of all ages that offers an affecting interpretation of the gift of giving and a serene acceptance of another's capacity to love in return.
7. Engaged Leadership by Clint Swindall – Engaged Leadership is the best of both worlds: an engaging business story coupled with a primer on the practical skills all leaders need. In the book, Swindall provides many useful tools for successfully meeting twelve major leadership challenges.
8. Bringing Out The Best in People by Alan McGinnis – Alan Loy McGinnis, author of the best- selling book The Friendship Factor, studied the great leaders throughout history, the most effective organization, and many prominent psychologists to discover their motivational secrets. There are actually a small number of principles used by good motivators, and the best leaders were using them long before psychology had a name. 
9. The Friendship Factor by Alan McGinnis – At the heart of each relationship, says McGinnis, is the friendship factor-the essential ingredient of warmth and caring. With captivating case histories and anecdotes about such famous people as George Burns, Howard Hughes, and C. S. Lewis, McGinnis shares the secret of how to love and be loved.
10. In Search of Excellence by Tom Peters – Based on a study of forty-three of America's best-run companies from a diverse array of business sectors, In Search of Excellence describes eight basic principles of management — action-stimulating, people-oriented, profit-maximizing practices — that made these organizations successful.
11. Talent by Tom Peters – Tom Peters is back and in his own words‹he's "Mad as Hell." Breaking down the message from his bestselling Re-Imagine!, these four pocket-sized books deliver crucial business truths to those who are looking for inspiration on leadership, innovation, design, or women in business.
12. Pursuit of Wow by Tom Peters – Once more the "unconventional" Peters stimulates corporate thought processes. Along with the best of his columns, Peters includes questions and rebuttals that come from readers and listeners, as well as his own candid responses. A "must" read for every business person.
13. The Happiness Project by Gretchen Rubin – In this lively and compelling account, Rubin chronicles her adventures during the twelve months she spent test-driving the wisdom of the ages, current scientific research, and lessons from popular culture about how to be happier. Among other things, she found that novelty and challenge are powerful sources of happiness; that money can help buy happiness, when spent wisely; that outer order contributes to inner calm; and that the very smallest of changes can make the biggest difference.
14. The Autobiography of Benjamin Franklin – One of the most popular works of American literature, this charming self-portrait has been translated into nearly every language. It covers Franklin's life up to his prewar stay in London as representative of the Pennsylvania Assembly, including his boyhood years, work as a printer, experiments with electricity, political career, much more.
15. Toy Box Leadership by Ron Hunter, Jr. & Michael Waddell – What can LEGOS teach you about building your business through connection? How can Slinky Dog demonstrate the value of patience when you're growing your organization? What has every little boy learned from his Little Green Army Men that he can use in business strategy? Whether you are an executive, a manager, or a parent, in Toy Box Leadership you will find the toy box a great place for lessons to successfully influence and lead others.
16. How to Win Friends and Influence People by Dale Carnegie – For more than sixty years the rock-solid, time-tested advice in this book has carried thousands of now famous people up the ladder of success in their business and personal lives.
17. Love Does by Bob Goff – Bob Goff has become something of a legend, and his friends consider him the world's best-kept secret. Those same friends have long insisted he write a book. What follows are paradigm shifts, musings, and stories from one of the world's most delightfully engaging and winsome people. What fuels his impact? Love. But it's not the kind of love that stops at thoughts and feelings. Bob's love takes action. Bob believes Love Does.
18. The Last Lecture by Randy Pausch – When Randy Pausch, a computer science professor at Carnegie Mellon, was asked to give a last lecture, he didn't have to imagine it as his last, since he had recently been diagnosed with terminal cancer. But the lecture he gave–"Really Achieving Your Childhood Dreams"–wasn't about dying. It was about the importance of overcoming obstacles, of enabling the dreams of others, of seizing every moment (because "time is all you have…and you may find one day that you have less than you think"). It was a summation of everything Randy had come to believe. It was about living.
19. Dad is Fat by Jim Gaffigan – In Dad is Fat, stand-up comedian Jim Gaffigan, who's best known for his legendary riffs on Hot Pockets, bacon, manatees, and McDonald's, expresses all the joys and horrors of life with five young children—everything from cousins ("celebrities for little kids") to toddlers' communication skills ("they always sound like they have traveled by horseback for hours to deliver important news"), to the eating habits of four year olds ("there is no difference between a four year old eating a taco and throwing a taco on the floor").
This Episode's Fired Up Quotes
"A day you are not moved to tears is day not lived to its fullest." – Jerrod Murr (Tweet That)
"You should never read just for "enjoyment." Read to make yourself smarter! Less judgmental. More apt to understand your friends' insane behavior, or better yet, your own. Pick "hard books." Ones you have to concentrate on while reading. And for god's sake, don't let me ever hear you say, "I can't read fiction. I only have time for the truth." Fiction is the truth, fool! Ever hear of "literature"? That means fiction, too, stupid." – John Waters
Subscription Links
If you have enjoyed this podcast, please subscribe:


 Your Feedback
If you have an idea for a show you would like to see or a question about an upcoming episode, email me. Also, if you enjoyed the show, please rate it on iTunes and write a brief review. That would help tremendously in getting the word out! Thanks.
Question: What are your favorite books? Add them to the list so we can read them! Please leave a comment below.