I try everyday to Live My List. I want to wake up every day trying to live a life of intention. I hope to accomplish all of my dreams, goals, and ambitions while following my purpose. I want to become the person I am destined to become, to be a man of character who focuses on strengthening the bonds with my friends and family. I want to do and dream and love.
Most people look at someone who follows the Live Your List philosophy and assumes it takes a ton of money to travel the world and follow your dreams. That I need buckets of money to live a life of intention. Well, those people couldn't be more wrong.
Living Your List is all about being intentional. Waking up in the morning and focusing on ways to improve yourself, your actions, and your relationships. 
Take the extra time to go for a jog. Put down the phone to hang out with your children. Spend your free time writing that book you've always said you would write. Go out of your way to visit the interesting things in your city.
Once you start viewing your life as an opportunity to live fully, you can start living fully.
How to Set Up Your Own Bucket List
Set up a Bucket List in 10 minutes or less by reading my step-by-step post. Also, check out 281 Awesome Bucket List Items You Should Add to Your List. We are always challenging people to Live Your List. Learn more….
Subscribe by clicking here.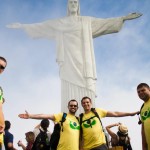 Ryan Eller is a dreamer, adventurer, and avid Bucket Lister. He once hosted a leadership conference underneath mango trees in Cuba. He led team-building activities at the Christ The Redeemer Statue in Rio. He even slid down portions of the Great Wall in China.His goal is to help others learn how to live intentionally by learning how to Live Your List.